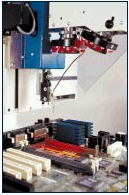 Troubleshoot PCBs
Click picture for
typical installation
PCB test and repair system
GRS500

High value circuit boards


Test and troubleshoot complex SMD boards


Legacy systems


Reduce repair times


Powerful fast manual setup
Troubleshoot PCB assemblies - fast
You know that troubleshooting complex PCBs is a skilled task. The GRS is designed to help you rapidly home-in on a fault giving you maximum time to put your skills to 'best use' in getting your boards up and running. You can save time, cost and repair boards using through hole mixed and SMD technology.
How can the GRS500 help?

Designed to help technicians locate faults on a wide variety of PCBs, right through from legacy systems, up to double sided high density surface mount assemblies with BGA. The GRS employs a precision probing and video system to enable PCB test and fault location using a combination of nodal impedance test and visual comparison with live video against a high resolution "videosection" of a known good board. Especially powerful if you need to repair a large variety of PCBs, the GRS is supplied complete with controller and built in CD R/W drive for test program archiving.

Versatile probing system

Designed to troubleshoot on all technologies, the GRS Probing system features:

• 100mm flying height allowing clear flight over the tallest components.
• Two live video cameras
• Camera one for programming and inspection
• Camera two for live view of probing position

Setting up

You can set up the GRS either by manually teaching component positions on the board, this is accomplished by a simple graphical "drag and drop" technique. The GRS500 positioning system has a resolution of 14 microns, enabling you to probe devices with pitches as small as 0.4mm. If you are fortunate to have CAD data, the GRS will accommodate CAD data from over 20 popular CAD systems.

Board Modifications
Revision levels of boards seem to constantly change, and, because the GRS is a fixtureless system, you can save as many revisions as you like. This helps you especially when you only occasionally repair a certain type of board.
Videosectioning

In addition to making electrical comparisons of good and faulty boards the GRS uses its onboard cameras to take a high resolution image of the entire board, sections of the image can be selected for live comparison with boards under test at a later date, this is ideal when checking for switch positions or physical component damage.
Financial performance
Designed from the outset for long life, flexibility and low cost of ownership, the GRS500 will help reduce your costs for many years and is suitable for use on a wide variety of PCBs
You stand to benefit most if you can answer yes to more than 2 of the following criteria

Repair high value boards


Work with legacy systems


Need a system to complement functional test


Use boundary scan


Need to repair more SMD based technologies

Learning known good boards
Teaching component positions on the GRS500 is accomplished with an easy to use graphical interface. Simply "pick and place" components into a graphical representation of the board, the software and onboard video systems help ensure you have an accurate and repeatable program. If you are fortunate and also have access to CAD data the GRS can import from a wide variety of formats.
Precision flying probe system with 2 integral video cameras, supplied with custom PC based controller including 17" high resolution TFT screen monitor. Also included Polar GRS500BXd nodal impedance test system and powerful graphical repair software, permitting net tracing through inner layers using "virtual X-ray" and videosectioning techniques - see brochure for more details