Zuken CR-8000 Design Force and DFM Center – Polar Speedstack link
Polar Speedstack PCB layer stackup design and documentation tools link directly with Zuken CR-8000 Design Force. Design Force customers are able to communicate pre-layout stackup designs seamlessly in and out of CR-8000 Design Force and also link with Design Force DFM Center. This can help avoid duplication of material and impedance documentation and ensure precise signal integrity design is preserved in the finished product
Simplify material communication in the supply chain
The Zuken DFM Center PCB manufacturing pre-processing and CAM system integrates directly with Polar Instruments' Speedstack PCB layer calculation and documentation system, ensuring high final product quality, consistency of technical reports, reduced costs and shorter time to market whilst reducing the possibility of errors. Designers can simply define layers in DFM Center then export to Speedstack to define materials and provide a fully documented stackup in a format widely recognised by both PCB supply chain managers and fabricators.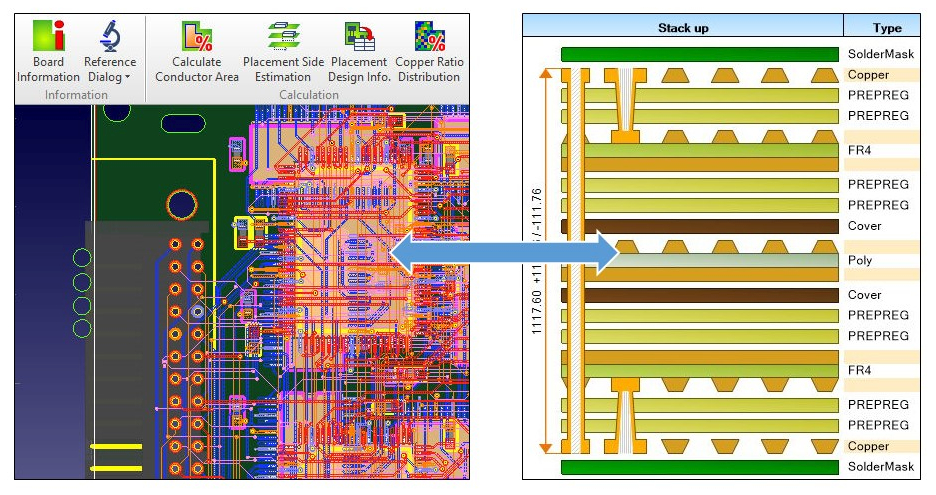 Access new high speed materials on line
The interface communicates comprehensive material information required for today's complex high layer count designs and gives Zuken's customers access to Polar's on line libraries of the latest high speed base materials. Impedance information contained within Speedstack is replicated within the CR-8000 environment saving time consuming and error prone manual re-entry.
Rapid modelling of both rigid and flex-rigid stackups
Polar Speedstack is the pre-layout stackup tool of choice for many high end fabricators, value added brokers and OEM base PCB Technologists and features greatly enhanced productivity:
Enables design rule checking early in the design process
Provides for concurrent design rule changes as work progresses
Real time sharing of specifications between all parties in the design process
Easy rule updating for changes in manufacturing specifications and mounting processes
Faster design reviews reduce design time and costs
Interactive data transfer reduces design iterations
Seamlessly communicate layer stackup design into Design Force
The connection between Speedstack and Zuken CR-8000 Design Force provides a strong link in the chain between design and fabrication and helps ensure customers deliver designs to market that are consistent from prototype to volume production