PCB stackup, signal integrity and controlled impedance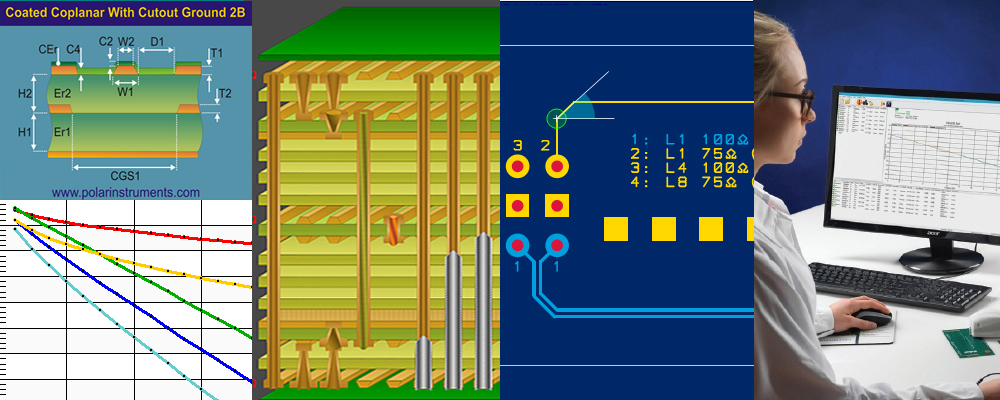 Speedstack highlights plated layers at the click of a mouse.
It is essential for designers to be aware which layers of their stackups are plated and the 21:03 edition of Speedstack does this at a click of the mouse. More information may be discovered on the Featured Product page.
PCB signal integrity, PCB stackup, impedance design, test and documentation
Field solving design systems compute parameters for lossless or lossy line impedance, taking into account high-frequency dielectric loss and copper surface losses using Huray, Groisse or Hammerstad methodologies.
PCB stackup design and documentation integrates seamlessly with the field solvers to include transmission line data in the final board stackup report. Extensive suppliers material libraries are available on-line.
Transmission line test systems support conventional impedance measurements as well as SPP, SET2DIL and Delta-L methods for measurement of insertion loss.
Most popular Polar web pages
Polar's most popular product pages and application notes: the 10 most viewed and the top 10 by reading time on the Polar website in the past month.
Technical know how
Probably the most comprehensive on line resource of impedance and insertion loss production related technical information and application notes on the web backed up by a staff with decades of in-depth industry experience.
Concessionary licenses for home working for Polarcare customers
Polar's program of concessionary licenses for home working is being wound down. If you require a long term solution to working from home using our signal integrity products please call Polar to discuss licensing. Contact Polarcare with your Polarcare contract number.
Polar YouTube channel
Polar YouTube channel with product tutorials, application ideas and new capabilities – most viewed