Determining H2 in Polar field solvers
This note helps explain how H2 – or any height where copper is pressed into a prepreg – is defined in Polar field solvers, and helps you understand the question "Should the copper thickness T1 be added to H2 or not?" To understand the answer – read on...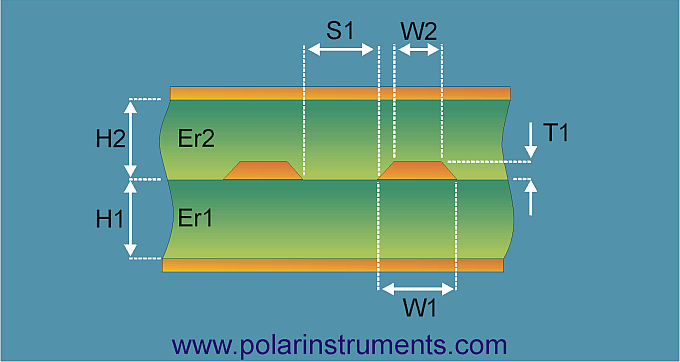 Look carefully at the above edge-coupled offset stripline structure and you will see the copper traces are immersed or "embedded" in the surrounding H2 dielectric material. Where a Polar field solver structure shows the trace surrounded by a dielectric material like this we are showing the copper traces pressed into prepreg material. H1 shows core material – that is PCB substrate material that is fully cured with copper foils laminated to both sides – this material has a known height when pulled from stock, and will be specified on the laminate data sheet. The height shown by H2 cannot be calculated from a datasheet alone as the region is at fabrication time composed of prepreg which is part cured epoxy with glass fiber reinforcement (prepreg) – when heated and pressed this flows around the etched copper traces and the final H2 will be determined by the copper density of the traces on the layer and the flow characteristics of the resin when it is heated to start its final cure.