Locating faults on address and data bus lines
When testing PCBs for faults on address or data bus lines the PFL operator needs to bear in mind that most bus-based devices will incorporate some form of input protection, usually similar to the simplified configuration shown below.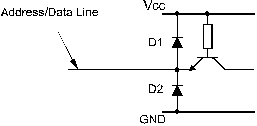 Typical address/data line showing input protection diodes
The diodes will present an open circuit to signal voltages on the address and data lines, which normally switch between Vcc and ground, and should only conduct under fault conditions (e.g. for a 5V system, when the voltage on the line exceeds 5.6V or goes below –0.6V).
During nodal impedance analysis device testing, however, the nodal impedance analysis fault locator applies a sinusoidal signal to a node under test which will cause each diode to conduct at its maximum positive and negative excursions. Using the PFL Junction range the resulting signature will appear as shown below.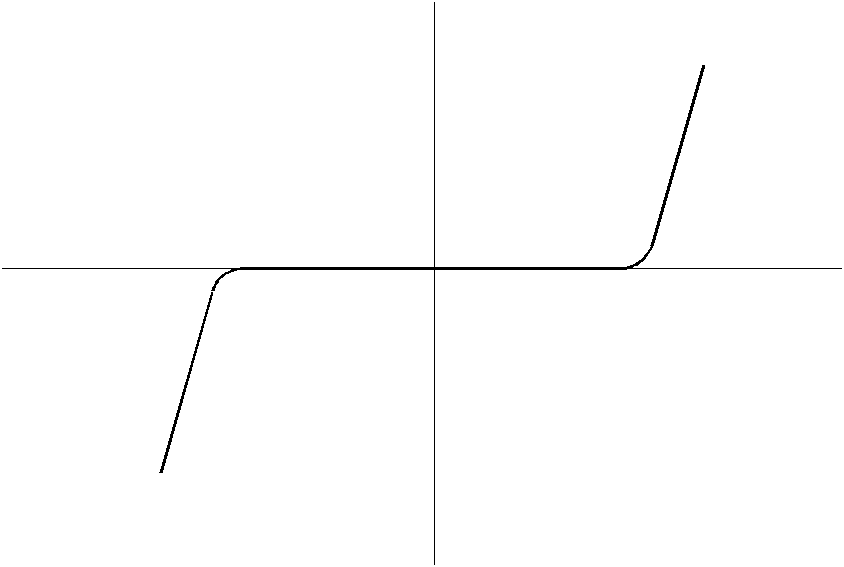 Address/data line signature
You can think of the signature above as a composite of three elements — a horizontal component where no conduction occurs and two sloping portions showing where the protection diodes conduct.
The operator will usually look at all the bus lines during testing; all address and data lines will typically display similar signatures. A bus line with a signature significantly different from the others will alert the operator to a fault on the line, often indicating damage to the input protection circuitry. For example, an open circuit line will appear horizontal.
However, on such configurations, even Junction range will not display conspicuous differences in signatures if, for example, two data or address lines are shorted.