Please contact your Polar office before applying this application note
Speedstack displays an exception error at start up for one user on a PC
Speedstack can be set up for use by multiple users on a single machine. Occasionally, users may encounter a condition where Speedstack displays the following exception error at startup for just one user on a particular PC when opening a Speedstack file by double clicking the .stk file or by opening from All Programs. (The same .stk file can, however, be opened by other users; i.e. other users can log into the same PC and open Speedstack.)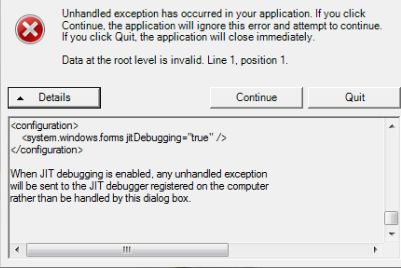 The symptoms are related to one individual on one PC with Speedstack and any design file. The issue is not connected to the .stk/.sci file itself as the file loads for other Speedstack users.
The symptoms are caused by one or more corrupted Speedstack configuration files for a particular user – Speedstack's configuration files are stored on a per user basis for a machine so that users can store their own Speedstack preferences, for example, each user can specify settings for display / colours / printing.
The issue can be resolved by removing the corrupted Speedstack configuration files – Speedstack will note the absence of configuration files and create new files.
Login as the user that is experiencing problems
Ensure Speedstack is not running
Browse to the C:\Users\<username>\AppData\Roaming\Polar\Speedstack folder
Copy all the configuration files to a different location for backup purposes
Delete all files that are present in this folder
Restart Speedstack; this will recreate the configuration files with their default values
Speedstack should now start correctly.
The user should reconfigure Speedstack – reselect the licensing options, library file paths, etc.