Accessing the Polar Speedstack on-premise material libraries
Speedstack provides access to the Polar Online Material Library.
This facility allows designers and fabricators to download the latest material libraries so preferred materials may be dynamically included in Speedstack's Stackup Editor as stacks are being created or modified.
There are 3 ways to access library partner materials depending on your IT security requirements.
Basic easy access via ftp
Via https download where ftp is not permitted.
For the highest level of on premise security, Polarcare can email or WeTransfer the files for your IT staff to deliver to you.
Online Library access
When the Online Library function is called:

Speedstack connects to the Online Library and displays the materials available for each file type from all the suppliers in the Speedstack Supplier Partner program.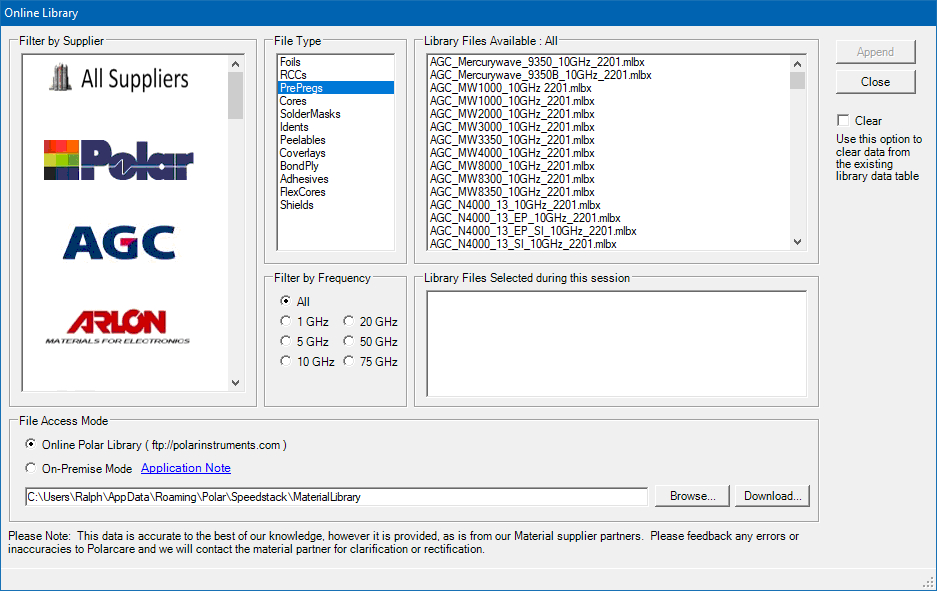 Choose the material from the displayed list and click Append to add the material to the target table. To replace the current table contents with the new data, click the Clear check box to clear the data in the target table.
Libraries may be filtered by supplier, by file type and by frequency of specified Dk and Df. Selecting libraries by supplier or by frequency is described in AP536.
On-Premise libraries
When a local copy is required, a complete set of the online libraries may be downloaded to a local folder.
Downloading the online library to a local folder
This option downloads the complete set of On-Premise material libraries so that they are stored locally. It is then possible to append selected library files to the existing Speedstack library. (Note that this requires an internet connection – the HTTPS protocol is employed for downloading.)
Click the Download... button to download the complete library set – the library set is stored locally as shown below.

Select On-Premise Mode – the library files should appear as a local online library; import materials as described above.
Requesting the online library
Where access to the online library is unavailable the set of libraries is available on request to Polarcare subscribers; contact polarcare@polarinstruments.com with your Polarcare contract number and Speedstack version.
A copy of the online library will be supplied in zipped format. Unpack the library and copy to a suitable local folder with the file/folder structure preserved.
From the File Access Mode pane choose On-Premise Mode and browse to the local copy.

The library files should appear as a local online library; import materials as described above. Library files may be appended to the existing Speedstack library as described above.