LA9000 S-Parameter Analysis – BETA release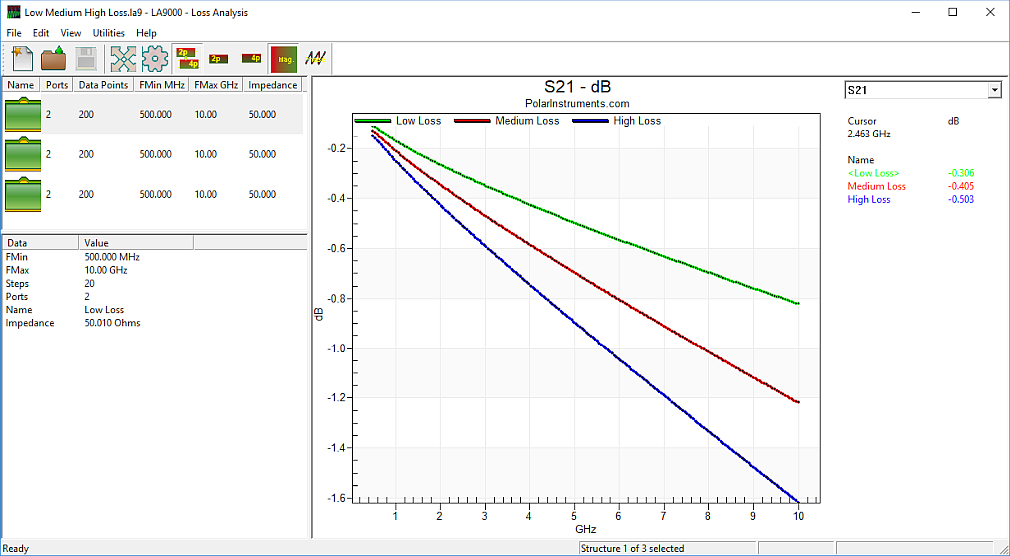 LA9000 S-Parameter Analysis
When you need to compare s-parameter data from a range of sources, or simply need to look at a suite of simulations against each other the LA9000 provides an easy to use graphical display of S-parameters from any source of Touchstone™ files.
The LA9000 is at its best when connected with the Si9000e insertion loss field solver where the "projects" option can auto export a bundled suite of s-parameter data along with the associated mechanical and electrical properties for the transmission lines being simulated. This can for example allow you to visualise differences in insertion loss for groups of structures which are geometrically identical and yet deploy different performance base materials.
Likewise if you have access to Touchstone data from a measurement system the LA9000 can take this and display alongside the simulated data and associated transmission line structure information from Si9000e.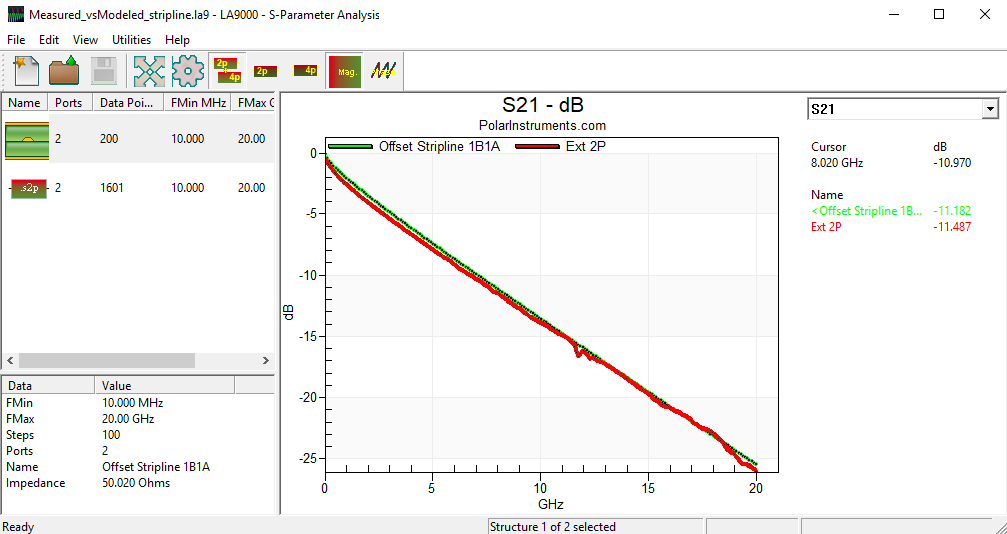 Using Speedstack/Si Projects
If you use Speedstack you can also export a project to Si9000e and explore the transmission line behaviour of, for example, a 50 Ohm trace on an outer or embedded or inner layer, Si9000e is a powerful tool for transmission line simulation, and for detailed analysis of a single line at a time. Speedstack can easily export a project for processing into S-parameters by the Si9000e and then onward in a single click to the LA9000.

PCB technologists adding LA9000 to their Speedstack Si installations can benefit from the Speedstack Online libraries to process simulations of the same PCB when built with base materials from different suppliers.
Contact Polarcare@polarinstruments.com to arrange an evaluation of this new product which is in beta release phase at the moment. LA9000 operates both as a standalone product allowing you to drag and drop Touchstone™ files, as well as with Speedstack Si and Si9000e.
The active link between Si9000e and LA9000(beta) is available from Si9000e Version 19:05 onwards.
Support
Please take a look at the Signal Integrity / Loss Application Notes – you will gain maximum benefit from your suite of Polar tools if you read these supporting notes. These brief articles help you translate the precision output of your designs into practical real world PCBs with good production yields.
Ask us about support packages for your LA9000.
System requirements
For PC system requirements for LA9000 see AP605