Polar test probes - IPDS probes designed for the CITS880s
Polar produces a comprehensive range of test probes, including the IPDS-100 differential model shown here.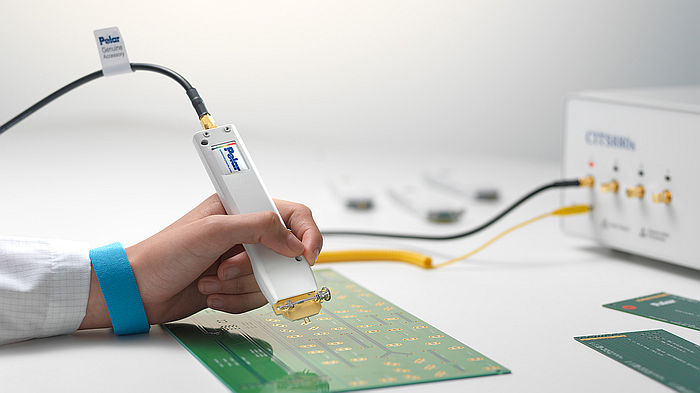 Click picture for full size view
The IPDS probe family is designed especially for use with the CITS880s and combine revised internals with more robust mechanical design and enhancements to the signal path, along with ergonomic precision moldings in 100% ESD dissipative materials. IPS and IPDS probes are easily identified and contrast with previous generation probes by the use of blue labels and blue resist on the probe tip interface.

You can minimize your IPS probe costs to by ensuring your coupons are designed with a "preferred" footprint please ask your local Polar office for advice on coupon and testpad geometry.
Groundless differential testing
Groundless probes are available for 2015 editions of the CITS880s and onwards, both fixed pitch and precision variable pitch groundless probes are available for situations where OEMs mandate on board test of differential pairs - and where the ground connection on the PCB is either difficult to access or completely inaccesible.
Polar's optional CGen Coupon Generator enables you to design your test coupons using a range of styles and probe foot prints.
For a full selection of probe foot prints please refer to Application Note AP146.
Easy to use
CITS impedance test systems are exceptionally easy to use. Powerful Windows-based software automates every aspect of testing, enabling the entire process to be controlled by a single click of a mouse or footswitch. You simply position the IPS probes, select a test file containing the normal PCB test impedance and tolerance, and press the footswitch. There is no requirement to perform any of the adjustments that are conventionally associated with complex TDR measurements such as setting-up vertical gains, pulse time delays and timebase values. For maximum throughput, the CITS can execute a series of impedance tests automatically, prompting you to reposition the probes as appropriate.
Test results are simple to understand – the CITS automatically processes the data to produce an unambiguous display of characteristic impedance vs distance, and provides clear visual indication of pass/fail status. On fine geometry boards which sometimes exhibit an upward sloping trace, the use of Launch Point Extrapolation (with the approval of the board design authority) will allow you to better correlate the impedance test resutls with 2d field solver (such as the Si8000m) predictions. Use of LPE also makes the measurement far less subjective to the positioning of the test limits.
Automatic datalogging enables test results – together with system set-up data and measurement criteria – to be easily exported to a wide variety of third-party database or spreadsheet packages for real-time statistical process control. The pass/fail status of each test is also made available via opto-isolated signals on the instrument's rear panel, facilitating integration with other factory automation equipment.

All CITS880s now also offer direct export of test results in Excel compatible format.
Traceable measurement activity
Traceable measurement accuracy complements the CITS simplicity of operation. Furthermore, QA specialists still have the freedom to specify complex measurement parameters as well as standard test functions like pass/fail limits, result handling and data logging.
Multi point calibration with reference air lines ensures traceable impedance measurements from under 28 Ohms single ended to over 150 Ohms differential.
You can print test results to provide conformance reports for your customers, store the data on disk for archive purposes or future analysis or export it for real-time SPC purposes. An optional datalog report generator (DRG) accommodates a wide variety of standard forms, for simplicity of reporting. A barcode reader is also available as an option, which enables PCB identification labels to be scanned-in during the test process, reducing handling time and eliminating error.
Design and process control
When considering starting impedance controlled production you will also find the Polar Si8000m controlled impedance design system helps you tailor your customers designs to your production process. It is also ideal in helping your front end team to optimise the incoming data for maximum controlled impedance yield. Working with both CITS and Si8000m will give you a complete solution for impedance test and process control.
Automatic test program generation
Speedstack layer stackup software can now directly export CITS880s test programs from a controlled impedance stackup.
Professional reports with CITS DRG - Datalog report generator option
The CITS DRG Datalog report generator option allows you to deliver finished measurement result reports in a professional format.
CITS880s Assure Annual subscription:
CITS880s Assure Annual Subscription is a new way to deploy CITS with assurance of service continuity from a maintained CITS880s for a low initial outlay at a fixed annual cost.